Call Dayton's Finest Towing , Carrier, And Recovery Experts.
24 Hours A Day , 365 Days A Year.
Sun , Rain , Sleet , Or Snow. Sandy's Towing Is Ready To Go.
So Click On The Banner Link Below , And Away Your Vehicle Will Go.
On A Most Secure and Professional Tow.

Sandy's Towing will also bring you fuel, Jump start your battery, Change your flat tire, Recover your stuck vehicle from mud, snow, water, or whatever your predicament . They also can unlock most vehicles. Sandy's Towing has 5 Ton Wreckers, Flatbed Car Carriers, and Semi Tractor Wreckers for the really large jobs. They even have a air truck with air cushions for the tractor trailer Rollovers. They have more equipment than I can possibly list here. Quite a impressive fleet.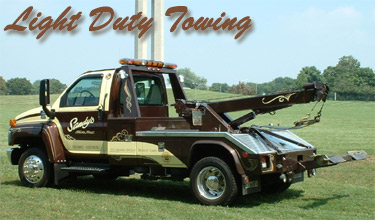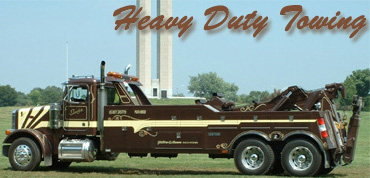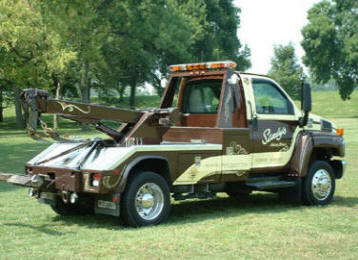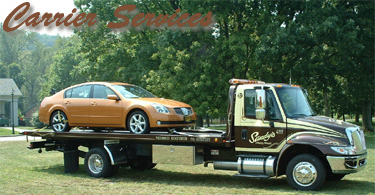 This Web Page is dedicated To Joe And Ruth McKamey.
Joe McKamey was Killed On the Job October 10 ,1997.
He was doing what he Loved, Working at Sandy's Towing ,Working in the Automotive field and Helping others.
Now a few words on Auto Safety
Every day in the United States Of America and across the world, People wake up in the morning , and Get in their Vehicles to go to work . Most (hundreds if not thousand's of people) do not realize that this will be their last day on this earth. That's what happened to my Grandfather ( DAD ) Joe McKamey . He got up , let his dog's out, and then went on a call for Sandy's Towing just like any other day. The call was a flat tire on a car on state route 741's on ramp to I-75 northbound here in ( Miamisburg, suburb of Dayton ) Dayton, Ohio . He pulled up in front of the car ( which was on the left side of the ramp ) in his Ford Ranger service truck. He had the front tire off the disabled car and had it laying on the tailgate of his service truck, which means he was standing between the two vehicles. Then all of a sudden a car racing up the on ramp, thought they would jump on I-75 northbound before the lanes actually merged with I-75. Well they hit that disabled vehicle, which was up on a jack, knocking the disabled vehicle into Joe McKamey and his Sandy's Towing service truck, literally smashing him between the two vehicles. But this did not kill him right off , ( Grandpa was a tough ole guy, WWII veteran with service connected disability. But you would never had known it. This guy loved working, especially at Sandy's Towing ). Now I had quit working there a few years earlier because of a back injury. But my brother Doug Franklin was still working there ( an still is ). Well he came up on the accident scene to help and to be with grandpa. Grandpa was bad off, they careflighted him to Miami Valley Hospital. The Police, Fireman, E.M.T.'s , Careflight and doctors all tried the best they could but we lost Grandpa later that day. Now here's the thing . If that fellow had not have been in a hurry and had been paying more attention to what he was doing ( driving ), Had kept his vehicle within the marked lanes, and respected the laws and privileges of a state's drivers license and driven his vehicle defensively and responsibly,
THIS TRAGEDY WOULD HAVE NEVER HAPPENED !
Now here is my challenge to all who read this.
Pay attention , Obey and Respect the Traffic Laws , Drive defensively . You have to expect the unexpected out there on the roads. Now really, think about it for a minute. There are lot's and lot's of young new inexperienced drivers out there on the road. There is also lot's and lot's of older drivers out there with hampered vision, hearing problems, and there reflexes are not as good for them as they were when they were younger. Hey we all need our transportation. Then there are the people that are on drugs or drunk, most of whom have already lost their driving privileges but are still out there on the roads driving anyways. Then there are the Sleepy drivers. I could go on an on, but here's the bottom line. It's just dangerous out there on the roads. you never know who is out there driving near you. If someone cuts you off, don't get mad, just let them go and hope you see them down the road with a policeman behind them. nowdays people will kill you over nothing. For real, it happens every day. Not many people respect each other anymore.
Page Last Updated 05/09/2006 03:52 AM